Veterans Day
By LA-jan - November 12, 2012
This is a Veterans Day post.
And a little more.
A thanks goes out to all soldiers, but in light of these posts
from the 1940's, a special thanks goes out to those
special soldiers that contributed to mom's
"wild year"!
I don't know which soldier in this picture sent this one, but I'm sure mom
was excited to get an overseas delivery!
I found a portion of a letter and I like to think it accompanied this picture. . .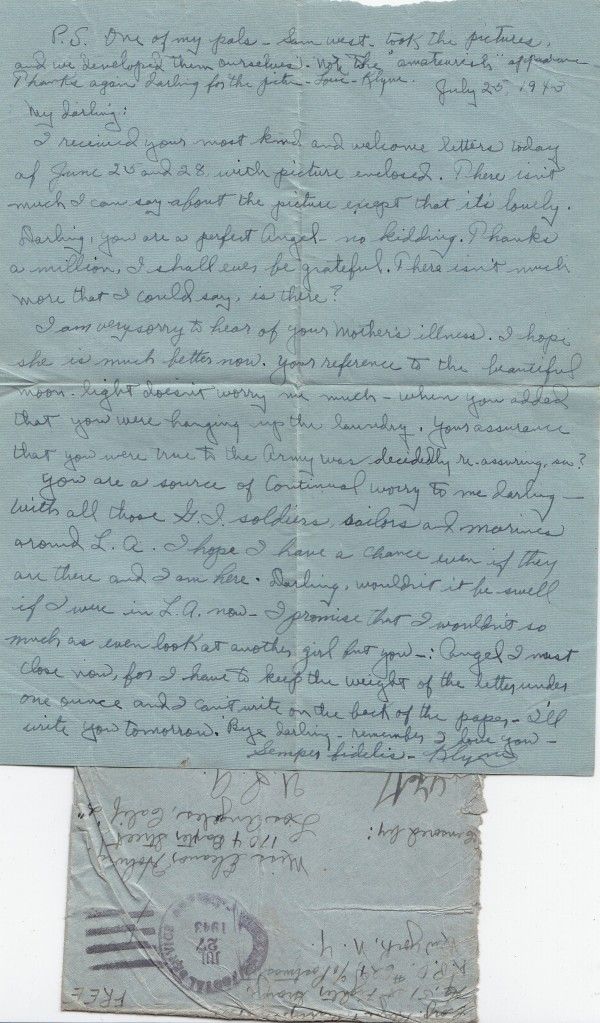 I think mom would have written in her diary that this was a "good one"!
She would often write about how many letters she had received as it was
always a high point in her day and always worth mentioning in her diary.
She and Dorothy and her friends would often share some of their letters.
And sometimes she made a point to say that one letter was a really
a "good one"!
Aunt Dorothy
Earlier today, Terry and I were able to spend some time with Aunt Dorothy.
She's moved into a new home in West Covina. There are 6 residents living with her.
She shares her room with one of them. Her room is in the front of the house, so she has a view to
the front out one window and a large french sliding door to an enclosed patio
on the other wall. Her room is light and bright and very comfy looking.
Lucy spends her days as she did before with Dorothy.
Hospice is still very involved, too.
I was not sure what to expect when I went out to see her, but I brought along
my tablet for her "swing music", a set a pictures from the party for Pat's
90th, (those 1940's ones) and high hopes!
She was sleeping, but awoke when we arrived.
Once I put on the music and started talking to her
the lights in her eyes brightened!
She has some difficulty getting out entire thoughts, but she was
able to appreciate the music and smiled at the photos.
yes, swaying to the beat of Glenn Miller!
What a terrific visit!