Oh Christmas Tree!
It was pouring rain much of last weekend when we decided we had just enough time for getting our Christmas tree.
The guy at the lot triple bagged it for us since it was flocked and so it would survive the ride home. Yeah!
The guys brought it up the back deck to the living room and unbagged it.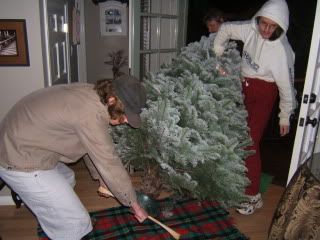 Perfectly dry and intact, the tree came in with a little help from the guys.
And now rests waiting for lights and trimming. . . if only there was time.
Merry Christmas still to come.