Take A Peek at the Cabinets!
By LA-jan - August 06, 2009

The installer has been here for 2 days now installing cabinets.

Here in the dining room, he set them up. You can see the wide open space we now have looking into what used to be the breakfast nook, now the kitchen!

Slowly, the kitchen was taking shape!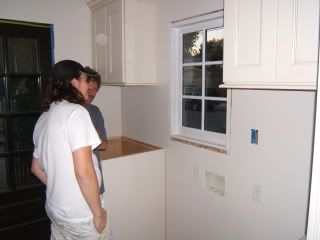 Terry and Taylor are inspecting the laundry room. Notice the new back door!




The cabinets fit the area so perfectly. It feels bigger without the over sized cabinets we had before boxing in the window. We moved the window up to accommodate the height of the counter top that will go over the W/D and sink area.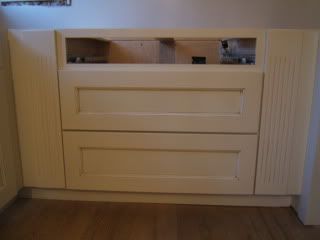 This is a closeup of the cooktop area. Three drawers below it (one missing due to gas valve) and spice/condiment pull-out cabinet flanking.

There will be 2 ft of counter top on each side.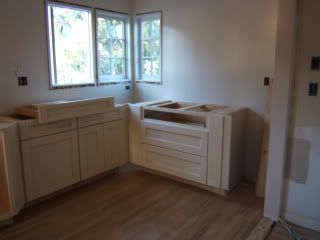 Backing up, here is a wide shot of the area. New corner windows. The prep sink will be under the window closest to us.
(There is the top drawer)


Peninsula is now coming where that hole is. . .








Here is the back of the peninsula. I think we'll get three bar stools for a breakfast bar here. ON the other side is the wine cooler and beverage cooler under the counter. Oh, and also a pull out trash cabinet.

Check out my legs!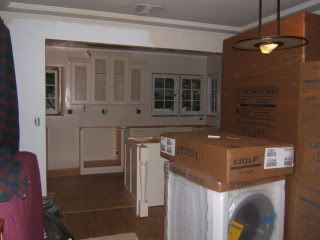 The appliances arrived as soon as Chris (installer) got the cabinets up and we filled the room up again!

He'll come back later for finishing the hutch, hardware and more trim.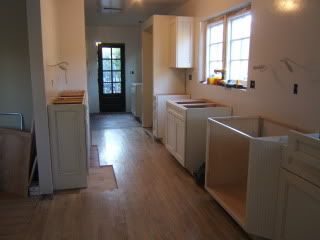 This is looking down from the cooktop to the back door.

The hutch area on the left is waiting for countertop before the corbels can be added and then the top cabinets. See how nicely is fits as a built in and now two people can easily walk by each other! That hole in the cabinet (whats left of the cabinet) is where my Viking oven will go. Dishwashers on each side of the sink.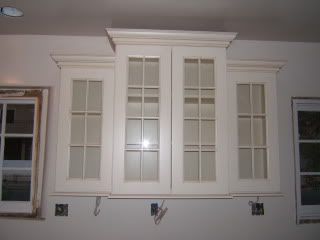 Love that detail on the crown and light rail!


It is hard to see the detail of the finish in these photos.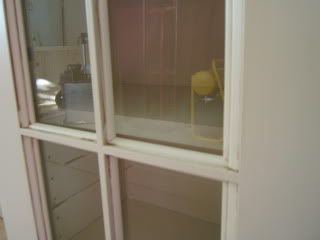 So, I took a close up of the glaze. Vintage look!