Music Video in the 'hood!
By LA-jan - August 18, 2009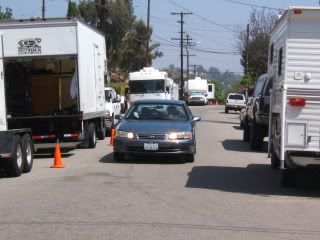 Kesha is making a music video. . . on our street! Well, this is Hollywood! And. . I had a little too much time on my hands between coats of paint. . . so. . .

It wasn't long and the street was filling up with filming trucks and equipment. That is Sean's truck in front of our house at the corner.










Across the street, the trailer was set up and a small crew was busy. They look busy, huh.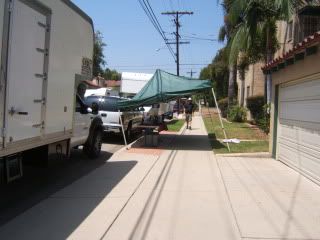 Taylor had a dentist appointment, so my car was boxed into the garage here. A woman under this tent radioed the "production crew member" and soon the truck was moved. No problem. Was this her job here under the tent?

There is so much "down time" I'm noticing.









This house around the corner was the house where the video was filmed. Apparently, the crew went house to house asking to use the property for the video and came in to check out if the "look" would work. Apparently, this one did.
The picket fence and bicycles were added for filming. The look-sort of a "typical family".







Taylor was a little miffed they used a TransAm! Eew, instead of a mustang! for the video.

Kesha was apparently the "bad seed" child.











The car port across the street was the commissary for the caterer. I heard there was salmon and filet mignon for lunch!



Who is Kesha you ask? I did. This is her first video apparently and this is her. Her music? Well, while aimed at teeny boppers, there should be a parental advisory for the R-rated material. "An up and coming", apparently, I hear.