Mother's Weekend!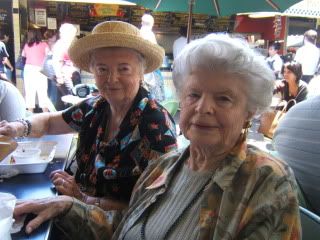 We started the weekend on Saturday. Here at The Farmer's Market Pat and Rita get ready for cornbeef and cabbage!
The boys order cajun blackened fish.
and they love it!
Then on Sunday morning we head out to West Covina for a beautful spread and great company!
Afterwards, it is back to LA for more fun with the Pollards and Keeshens!
Here, Terry presents his mom with a beautiful poem written by Izabel and wrapped for each son or daughter to present to their mom. Taylor presented me with one!
"I am opening my heart to myself.
Who am I? Why am I here?
I am taking a profound look at myself.
For each breath that I take, these questions still there.
I am not in a hurry.
I close my eyes. Then, I search and search.
Suddenly, far away, I hear my son calling me.
As his voice reaches me, I am transported to my familiar surroundings.
I open my arms to embrace him, feeling his genuine and pure love.
I forget completely my questions."