More Drama!
By LA-jan - July 21, 2009
It's been busy around here!

I left you at first stage of Demo. We remembered later what real demo felt like when the crew came and the walls came down and windows disappeared.

Notice here the walls. A few patches to do. Nothing major. Not bad at all!







We set up our indoor temporary kitchen in the living room. Thankfully we already had the undercabinet beverage and wine cooler for use.

Not too bad!









And the outdoor kitchen was working well, too! Terry had his burners, bbq, countertop and sink. The food coming out of here was great! Here, have a glass of Chardenay!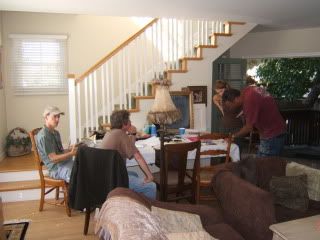 Mornings start at 6:45 with a meeting with the Contractor and which ever sub is working that day. Today, the plumber is here conferring with us. Even Kevin is on payroll for all the little things we meant to finish like locks, stuck doors, painting. . . but just can't get to.

Oh, by the way, like our dining room?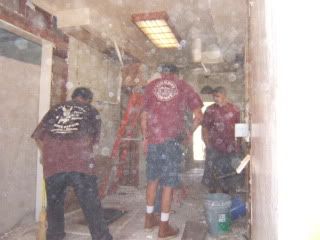 And the work begins in earnest, more demo needed for access for plumbing, electrical and windows, so the plaster comes down.

Yeah, that's my hardwood floors under there guys, go easy. No worries, they've covered it with the "magic paper". A sheet of construction paper!

No kidding! They were mixing a wheelbarrow full of cement for the pad (that goes in that hole in the floor) right in the middle of my kitchen! Eeeks!




Our "rough guy", Ted! He's a blast. Check out his worktable! A wheelbarrow! He does rough framing. Here, he's cutting the header for the window.











Here, a little trimming to fit. Again, check out the worktable, his foot!












Perfect fit!

Nice job, Ted!

Some passerbys asked for his business card. He picks up a piece of cut 2x4 and takes a marker and writes his phone number on it. "They won't lose that card!" he says. I love it!






Terry puts in his request for a "tomato ripening ledge" on the window.

Big enough, and made of countertop that won't destroy if the tomato spoils!

Done!







Taylor supervises from outside the window!

Everything lookin' good from here!


More to come. . .