Our Easter
By LA-jan - April 06, 2010
We celebrated Easter this year at Pat and Melanie's new house in Simi Valley. Cozy and cute, they've done a tremendous amount of work on the two houses here- a one bedroom they have up for rent, and a two bedroom that Pat uses for it's proximity to work.






Mom is enjoying "Single ladies" video courtesy of Losiah and family!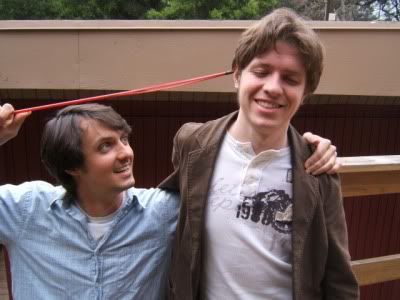 Sean and Joseph got right to bonding with each other after not seeing each other for so long due to hectic schedules!






And the games continued inside with Jackie and Lucas battling it out!






John enjoying the cool weather on the deck with Tom and Aunt Dorothy and Pat and Melanie's new puppy.






That was nice of Pat and Nolan to start a fire to keep us warm out here! Behind the fire pit is the dry stream bed fed by a steep waterfall when the rains come. Right out of view is a very cute little bridge that crosses the stream to the driveway. We thought we were in trouble when the Sheriff drove by, no, kept going. Even Pat's neighbor was fire friendly, showed us where the best wood was and even donated some old patio chairs to burn!






First time I made Cinnamon rolls and they were a hit!

A very nice Easter indeed!