Things are really moving fast in San Clemente
By LA-jan - June 12, 2010
We drove down this morning and found the front cleaned out and graded, trench for drainage pipe dug and piping set up for the walkway and patio for us to see.

After some discussion and exploration of alternatives, we settled on Steve's original set up for the path and patio perimeter. The plan was to widen and curve the walkway and he achieved that beautifully.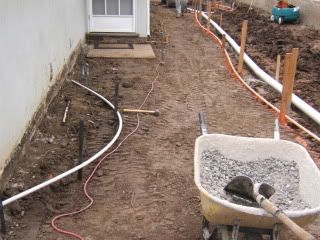 It is somewhat hard to see from the photos, but we widened the opening from the driveway and curved the walk to the front house door. The huge square planter was reduced in size to accommodate the walkway and added a curve to mimic the curve in the walk. Perfect!

The front house now has a larger landing in front and access to both houses improved.



The patio in the back has also been curved around the planter by the wall. We added a curved planter under the main window to take the place of the leaky box planter that was there before.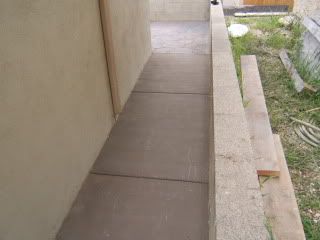 Follow me now through the side walkway, also new concrete to the new back patio!












Now an expanse of gorgeous stamped concrete.

We spent a great deal of time getting the colors chosen for this warm grey and brown mottling to get the look of "been there all the time" stone.

I do believe we got it right!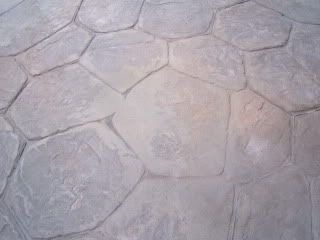 If you look closely, it looks like stone with all the ridges and variations, which after a wash and sealer applied, will show even better!


And we are not done yet. . .